🆘 Coronavirus Alert: (WHO): All countries must aim to stop transmission and prevent the spread of COVID-19, whether they face no cases, sporadic cases, clusters or community transmission.
"This is not a drill. This is not the time to give up. This is not a time for excuses. This is a time to pull out all the stops,"
"Iran and Italy are suffering now but I guarantee you other countries will be in that situation very soon," ...
A note on plagiarism (please read before submission): There is a zero-tolerance policy towards plagiarism in this journal. Manuscripts are screened for plagiarism at any stages, and if found they will be rejected/retracted.
Journal of Genomics recent articles:


Research Paper
Programmable CRISPR interference for gene silencing using Cas13a in mosquitoes
Aditi Kulkarni, Wanqin Yu, Alex Moon, Ashmita Pandey, Kathryn A. Hanley, Jiannong Xu
J. Genomics 2020; 8: 30-36. doi:10.7150/jgen.43928
[Abstract] [Full text] [PDF] [PubMed] [PMC]
---
Research Paper
Draft Genome Analysis of Christensenella minuta DSM 22607, exhibiting an unusual expansion of transporter homologs of unknown function
David A Coil, Guillaume Jospin, Jonathan A. Eisen
J. Genomics 2020; 8: 25-29. doi:10.7150/jgen.43162
[Abstract] [Full text] [PDF] [PubMed] [PMC]
---
Short Research Paper
Draft genome sequence of Deinococcus sp. KR-1, a potential strain for palladium-leaching
Hironaga Akita, Yuya Itoiri, Akio Kumagai, Noriyo Takeda, Akinori Matsushika, Mamoru Oshiki, Zen-ichiro Kimura
J. Genomics 2020; 8: 21-24. doi:10.7150/jgen.42020
[Abstract] [Full text] [PDF] [PubMed] [PMC]
Nanotheranostics recent articles:


Research Paper
Establishment of a hTfR mAb-functionalized HPPS theranostic nanoplatform
Qi He, Zilong Guo, Mingpeng Fu, Hongling Tang, Huifen Zhu, Guanxin Shen, Yong He, Ping Lei
Nanotheranostics 2020; 4(3): 119-128. doi:10.7150/ntno.41741
[Abstract] [Full text] [PDF]
---
Research Paper
Binding of Targeted Semiconducting Photothermal Polymer Nanoparticles for Intraperitoneal Detection and Treatment of Colorectal Cancer
Eleanor McCabe-Lankford, Bryce McCarthy, Margarita Arakelyan- Peters Berwick, Kiarash Salafian, Laura Galarza-Paez, Santu Sarkar, John Sloop, George Donati, April J. Brown, Nicole Levi-Polyachenko
Nanotheranostics 2020; 4(3): 107-118. doi:10.7150/ntno.29522
[Abstract] [Full text] [PDF]
---
Research Paper
Liposome-Templated Indocyanine Green J- Aggregates for In Vivo Near Infrared Imaging and Stable Photothermal Heating
Calvin C. L. Cheung, Guanglong Ma, Kostas Karatasos, Jani Seitsonen, Janne Ruokolainen, Cédrik-Roland Koffi, Hatem A.F.M Hassan, Wafa' T. Al-Jamal
Nanotheranostics 2020; 4(2): 91-106. doi:10.7150/ntno.41737
[Abstract] [Full text] [PDF] [PubMed] [PMC]
JCA Top cited papers: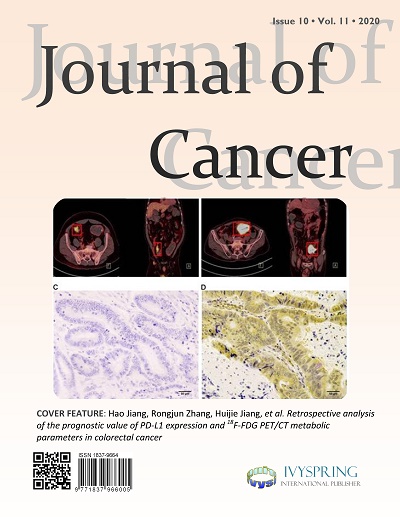 Research Paper
A2AR Antagonism with DZD2269 Augments Antitumor Efficacy of Irradiation in Murine Model
Jiaqi Huang, Di Zhang, Yu Bai, Pamela Yang, Ligang Xing, Jinming Yu
J. Cancer 2020; 11(12): 3685-3692. doi:10.7150/jca.43966
[Abstract] [Full text] [PDF]
Research Paper
Down-regulated Solute Carrier Family 4 Member 4 Predicts Poor Progression in Colorectal Cancer
Hong Yang, Yao Lu, Weilan Lan, Bin Huang, Jiumao Lin
J. Cancer 2020; 11(12): 3675-3684. doi:10.7150/jca.36696
[Abstract] [Full text] [PDF]
Research Paper
Cyclooxygenase-2 mediates gefitinib resistance in non-small cell lung cancer through the EGFR/PI3K/AKT axis
Qin-fang Deng, Qi-yu Fang, Xian-Xiu Ji, Song-wen Zhou
J. Cancer 2020; 11(12): 3667-3674. doi:10.7150/jca.42850
[Abstract] [Full text] [PDF]
Research Paper
Overexpression of the clock gene Per2 suppresses oral squamous cell carcinoma progression by activating autophagy via the PI3K/AKT/mTOR pathway
Huan Liu, Xiaobao Gong, Kai Yang
J. Cancer 2020; 11(12): 3655-3666. doi:10.7150/jca.42771
[Abstract] [Full text] [PDF]
Research Paper
LncRNA NONHSAT141924 promotes paclitaxel chemotherapy resistance through p-CREB/Bcl-2 apoptosis signaling pathway in breast cancer
Ming Gu, Wenhui Zheng, Mingdi Zhang, Xiaoshen Dong, Yan Zhao, Shuo Wang, Haiyang Jiang, Xinyu Zheng
J. Cancer 2020; 11(12): 3645-3654. doi:10.7150/jca.39463
[Abstract] [Full text] [PDF]
Research Paper
miR-365a-3p regulates ADAM10-JAK-STAT signaling to suppress the growth and metastasis of colorectal cancer cells
Yong-gang Hong, Cheng Xin, Hao Zheng, Zhi-ping Huang, Yuan Yang, Ji-dian Zhou, Xian-hua Gao, Lun Hao, Qi-zhi Liu, Wei Zhang, Li-qiang Hao
J. Cancer 2020; 11(12): 3634-3644. doi:10.7150/jca.42731
[Abstract] [Full text] [PDF]
Research Paper
Identification of tumorigenicity-associated genes in osteosarcoma cell lines based on bioinformatic analysis and experimental validation
Shaojie Jiang, Fei Zhou, Yanhua Zhang, Weiping Zhou, Linghua Zhu, Miaofeng Zhang, Jingfeng Luo, Rui Ma, Xiufang Xu, Jiying Zhu, Xue Dong, Shuangling Zhang, Jie Fang, Jihong Sun, Xiaoming Yang
J. Cancer 2020; 11(12): 3623-3633. doi:10.7150/jca.37393
[Abstract] [Full text] [PDF]
Review
Deep Learning Model as a New Trend in Computer-aided Diagnosis of Tumor Pathology for Lung Cancer
Lei Cong, Wanbing Feng, Zhigang Yao, Xiaoming Zhou, Wei Xiao
J. Cancer 2020; 11(12): 3615-3622. doi:10.7150/jca.43268
[Abstract] [Full text] [PDF]
Research Paper
MiR-30a-5p promotes cholangiocarcinoma cell proliferation through targeting SOCS3
Jia Wei Zhang, Xing Wang, Gao Chao Li, Dong Wang, Sheng Han, Yao Dong Zhang, Chen Huan Luo, Hong Wei Wang, Wang Jie Jiang, Chang Xian Li, Xiang Cheng Li
J. Cancer 2020; 11(12): 3604-3614. doi:10.7150/jca.41437
[Abstract] [Full text] [PDF]
Research Paper
Determination of the Expression of PD-L1 in the Morphologic Spectrum of Renal Cell Carcinoma
Beatriz Walter, Sara Gil, Xu Naizhen, Michael J Kruhlak, W Marston Linehan, Ramaprasad Srinivasan, Maria J Merino
J. Cancer 2020; 11(12): 3596-3603. doi:10.7150/jca.35738
[Abstract] [Full text] [PDF]
Research Paper
The M6A methyltransferase METTL3 promotes the development and progression of prostate carcinoma via mediating MYC methylation
Yan Yuan, Yang Du, Lei Wang, Xiuheng Liu
J. Cancer 2020; 11(12): 3588-3595. doi:10.7150/jca.42338
[Abstract] [Full text] [PDF]
Research Paper
The Role of Formyl Peptide Receptor 1 Gene Polymorphisms in Human Colorectal Cancer
Shu-Qin Li, Yang Yu, Yan Zhang, Yan-Ping Sun, Xin-xing Li, Ning Su
J. Cancer 2020; 11(12): 3580-3587. doi:10.7150/jca.36355
[Abstract] [Full text] [PDF]
Research Paper
Surgery on primary tumor shows survival benefit in selected stage IV colon cancer patients: A real-world study based on SEER database
Jing Xu, Tai Ma, Yuanzi Ye, Zhipeng Pan, Donghui Lu, Faming Pan, Wanren Peng, Guoping Sun
J. Cancer 2020; 11(12): 3567-3579. doi:10.7150/jca.43518
[Abstract] [Full text] [PDF]
Research Paper
Optimal timing of antiviral therapy for patients with malignant tumor who presented with hepatitis B reactivation during chemotherapy and/or immunosuppressive therapy
Xiaofang Zou, Longhua Guo, Yinfang Gu, Zhijun Yang, Ping Huang, Tianhuang Liu, Jingjing Zhao, Guowu Wu
J. Cancer 2020; 11(12): 3559-3566. doi:10.7150/jca.40154
[Abstract] [Full text] [PDF]
Research Paper
Prognostic Value of ANXA8 in Gastric Carcinoma
Fangqi Ma, Xiaowei Li, Haiming Fang, Yueping Jin, Qin Sun, Xuejun Li
J. Cancer 2020; 11(12): 3551-3558. doi:10.7150/jca.40010
[Abstract] [Full text] [PDF]
Research Paper
RAS/RAF mutations in tumor samples and cell-free DNA from plasma and bone marrow aspirates in multiple myeloma patients
Qian Li, Helen J Huang, Jing Ma, Yafei Wang, Zeng Cao, George Karlin-Neumann, Filip Janku, Zhiqiang Liu
J. Cancer 2020; 11(12): 3543-3550. doi:10.7150/jca.43729
[Abstract] [Full text] [PDF]