J Cancer 2021; 12(22):6894-6904. doi:10.7150/jca.54556 This issue
Research Paper
Long noncoding RNA VPS9D1-AS1 promotes esophageal squamous cell carcinoma progression via the Wnt/β-catenin signaling pathway
1. Department of Oncology, Yancheng First Hospital, Affiliated Hospital of Nanjing University Medical School, The First People's Hospital of Yancheng, Yancheng, Jiangsu , China.
2. Department of Intervention, The Second Affiliated Hospital of Soochow University, Suzhou, Jiangsu, China.
#These authors contributed equally to this work.

This is an open access article distributed under the terms of the Creative Commons Attribution License (https://creativecommons.org/licenses/by/4.0/). See http://ivyspring.com/terms for full terms and conditions.
Citation:
Ma L, Yan W, Sun X, Chen P. Long noncoding RNA VPS9D1-AS1 promotes esophageal squamous cell carcinoma progression via the Wnt/β-catenin signaling pathway.
J Cancer
2021; 12(22):6894-6904. doi:10.7150/jca.54556. Available from
https://www.jcancer.org/v12p6894.htm
Abstract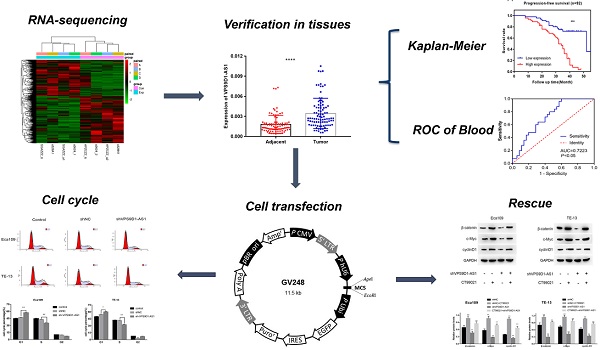 The VPS9D1 antisense RNA1 (VPS9D1-AS1, lncRNA MYU) can act as an oncogene or an antioncogene in different malignancies. In the present study, we demonstrated that VPS9D1-AS1 is significantly upregulated in esophageal squamous cell carcinoma (ESCC) and assessed its biological function and clinical prognosis. RNA-sequencing was conducted in four pairs of ESCC tissues and normal adjacent tissues (NATs). Compared with controls, lncRNA VPS9D1-AS1 was highly expressed in ESCC tissues, cell lines and plasma. VPS9D1-AS1 upregulation significantly correlated with the histopathological grade and clinical stage of ESCC. Analyses revealed poor prognosis in ESCC patients with high VPS9D1-AS1 expression. VPS9D1-AS1 knockdown led to the inhibition of tumor proliferation, migration, and invasion in vivo and vitro. VPS9D1-AS1 silencing downregulated the Wnt/β-catenin signaling pathways by acting on key proteins such as β-catenin and c-Myc. However, the expressions of these proteins increased after the addition of pathway agonist CT99021. Therefore, taken together VPS9D1-AS1 is highly expressed in ESCC and its expression can lead to poor prognosis. In conclusion, this study suggested that VPS9D1-AS1 acts as a vital part in facilitating ESCC progression and can be a potential biomarker for the diagnosis of patients with ESCC.
Keywords: VPS9D1-AS1, long non-coding RNA, prognosis, Wnt/β-catenin, esophageal squamous cell carcinoma