J Cancer 2021; 12(22):6861-6872. doi:10.7150/jca.60737 This issue
Research Paper
Long Non-Coding RNA NRON promotes Tumor Proliferation by regulating ALKBH5 and Nanog in Gastric Cancer
Department of Gastrointestinal Surgery, Ren Ji Hospital, Shanghai Jiao Tong University School of Medicine, Shanghai, 200127, China.
*These authors contributed equally to this work.

This is an open access article distributed under the terms of the Creative Commons Attribution License (https://creativecommons.org/licenses/by/4.0/). See http://ivyspring.com/terms for full terms and conditions.
Citation:
Wang S, Wang Y, Zhang Z, Zhu C, Wang C, Yu F, Zhao E. Long Non-Coding RNA NRON promotes Tumor Proliferation by regulating ALKBH5 and Nanog in Gastric Cancer.
J Cancer
2021; 12(22):6861-6872. doi:10.7150/jca.60737. Available from
https://www.jcancer.org/v12p6861.htm
Abstract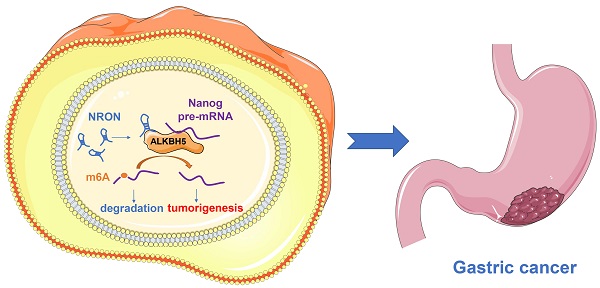 Long non-coding RNAs (lncRNAs) act as tumor suppressors or oncogenes in tumor development and progression. In this study, we explored the expression and biological role of lncRNA NRON in gastric cancer (GC). We observed that lncNRON was upregulated in GC tissues and cell lines, and high lncNRON expression was associated with malignant features and poor prognosis in GC patients. LncNRON was found to promote the proliferation and tumorigenicity of GC cells. Mechanistically, lncNRON exerted its oncogenic functions by binding to the N6-methyladenosine eraser ALKHB5 and mediating Nanog mRNA decay. In conclusion, our results suggest that lncNRON serves as an oncogenic lncRNA in GC and thus may be a promising prognostic factor and potential therapeutic target for GC patients.
Keywords: Gastric cancer, NRON, ALKBH5, Nanog, m6A