Editors-in-Chief:
Yan-Gao Man, MD., PhD., Director for Research Laboratory and International Collaboration, Bon Secours Cancer Institute, VA, USA
Naoto T. Ueno, MD., PhD., Professor of Medicine, University of Texas MD Anderson Cancer Center
Editors-in-Chief Profile
Now indexed in Science Citation Index (SCI) Expanded! Official impact factor expected in June 2014. Congratulations!
Indexed in PubMed and full texts in PubMed Central, Europe PubMed Central, and PMC Canada.
Rapid review and publication.
High visibility of articles over the Internet.
Top cited papers:
MicroRNAs are small non-coding RNA molecules that have been shown to regulate the expression of genes linked to cancer. The relevance of microRNAs in the development, progression and prognosis of prostate cancer is not fully understood. It is also possible that these specific molecules may assist in the recognition of aggressive tumors and the development of new molecular targets. Our study investigated the importance of several microRNAs in cases of prostate cancer from 37 patients that were manually microdissected to obtain pure populations of tumor cells, normal epithelium and adjacent stroma. MicroRNA was extracted for PCR array profiling. Differentially expressed miRNAs for each case were used to compare tumor vs. normal epithelium and tumor-adjacent stroma samples... More ...
The oncogenic tyrosine kinase receptor ErbB2 is a prognostic factor and target for breast cancer therapeutics. In contrast with the other ErbB receptors, ErbB2 is hardly internalized by ligand induced mechanisms, indicating a prevalent surface expression. Elevated levels of ErbB2 in tumor cells are associated with its defective endocytosis and down regulation. Here we show that caveolin-1 expression in breast cancer derived SKBR-3 cells (SKBR-3/Cav-1) facilitates ligand induced ErbB2 endocytosis using an artificial peptide ligand EC-eGFP. Similarly, stimulation with humanized anti ErbB2 antibody Trastuzumab (Herceptin) was found to be internalized and co-localized with caveolin-1 in SKBR-3/Cav-1 cells... More ...
Our previous research has shown that plasma fibronectin promotes lung metastasis by facilitating tumor cell invasion in clotted plasma. To evaluate the role of clotted plasma for tumor cell survival, we treated B16F1 cells embedded in a 3-dimensional matrix of fibrin with tumor necrosis factor α (TNFα), a cytokine with anti-tumor activity. Under these conditions, TNFα caused significant cytotoxicity, which was prevented when we added plasma fibronectin to the fibrin clot. Fibronectin-mediated TNFα resistance was dependent on PI3-kinase, which also mediated the pro-adhesive and pro-invasive effects of plasma fibronectin on tumor cells... More ...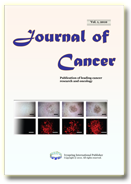 Journal of Cancer is a peer-reviewed journal publishing papers of high quality in all areas of cancer related fields, especially novel concepts, new methods, new regimens, new therapeutic agents, and alternative approaches for early detection and intervention of cancer. Journal of Cancer is published in cooperation with American Registry of Pathology.
Latest papers:
Research Paper
Partial Response at Completion of Bortezomib-Thalidomide-Dexamethasone (VTd) Induction Regimen Upfront in Multiple Myeloma Does Not Preclude Response to VTd in Consolidation
Guillemette Fouquet, Benjamin Hebraud, Sylvain Garciaz, Anne Marie Stoppa, Murielle Roussel, Denis Caillot, Marie Lorraine Chrétien, Bertrand Arnulf, Raphael Szalat, Laurent Garderet, Lina Benajiba, Brigitte Pegourie, Caroline Regny, Bruno Royer, Alexis Caulier, Cyrille Touzeau, Benoit Tessoulin, Jean Paul Fermand, Thierry Facon, Michel Attal, Hervé Avet Loiseau, Philippe Moreau, Xavier Leleu
J. Cancer 2014; 5(3): 248-252. doi:10.7150/jca.8541
[Abstract] [Full text] [PDF]
Research Paper
Relationship between Serum Level of Lymphatic Vessel Endothelial Hyaluronan Receptor-1 and Prognosis in Patients with Lung Cancer
Keiko Nunomiya, Yoko Shibata, Shuichi Abe, Sumito Inoue, Akira Igarashi, Keiko Yamauchi, Tomomi Kimura, Yasuko Aida, Takako Nemoto, Masamichi Sato, Hiroyuki Kishi, Hiroshi Nakano, Kento Sato, Isao Kubota
J. Cancer 2014; 5(3): 242-247. doi:10.7150/jca.8486
[Abstract] [Full text] [PDF]
Research Paper
Cone Beam Computertomography (CBCT) in Interventional Chest Medicine - High Feasibility for Endobronchial Realtime Navigation
Wolfgang Hohenforst-Schmidt, Paul Zarogoulidis, Thomas Vogl, J Francis Turner, Robert Browning, Bernd Linsmeier, Haidong Huang, Qiang Li, Kaid Darwiche, Lutz Freitag, Michael Simoff, Ioannis Kioumis, Konstantinos Zarogoulidis, Johannes Brachmann
J. Cancer 2014; 5(3): 231-241. doi:10.7150/jca.8834
[Abstract] [Full text] [PDF]
Research Paper
Serum Endocan as a Novel Prognostic Biomarker in Patients with Hepatocellular Carcinoma
Kazuaki Ozaki, Nobuyuki Toshikuni, Joseph George, Takahiro Minato, Yasuhiro Matsue, Tomiyasu Arisawa, Mikihiro Tsutsumi
J. Cancer 2014; 5(3): 221-230. doi:10.7150/jca.7691
[Abstract] [Full text] [PDF]
Research Paper
The Use of Androgen Deprivation Therapy (ADT) and Chemotherapeutic Agents in New Zealand Men with Prostate Cancer
Ross Lawrenson, Zuzana Obertová, Charis Brown, Peter Fong, Leanne Tyrie, Nina Scott, Michael Holmes
J. Cancer 2014; 5(3): 214-220. doi:10.7150/jca.8152
[Abstract] [Full text] [PDF] [PubMed] [PMC]
Research Paper
Modulation of Wnt Activity and Cell Physiology by Butyrate in LT97 Microadenoma Cells
Darina Lazarova, Andrew Lee, Terrence Wong, Brigitte Marian, Christopher Chiaro, Christian Rainey, Michael Bordonaro
J. Cancer 2014; 5(3): 203-213. doi:10.7150/jca.8569
[Abstract] [Full text] [PDF] [PubMed] [PMC]
Research Paper
Radiation Exposure of Patients by Cone Beam CT during Endobronchial Navigation - A Phantom Study
Wolfgang Hohenforst-Schmidt, Rosemarie Banckwitz, Paul Zarogoulidis, Thomas Vogl, Kaid Darwiche, Eugene Goldberg, Haidong Huang, Michael Simoff, Qiang Li, Robert Browning, Lutz Freitag, J Francis Turner, Patrick Le Pivert, Lonny Yarmus, Konstantinos Zarogoulidis, Johannes Brachmann
J. Cancer 2014; 5(3): 192-202. doi:10.7150/jca.8395
[Abstract] [Full text] [PDF] [PubMed] [PMC]
Research Paper
Potential Urinary miRNA Biomarker Candidates for the Accurate Detection of Prostate Cancer among Benign Prostatic Hyperplasia Patients
Taha A Haj-Ahmad, Moemen AK Abdalla, Yousef Haj-Ahmad
J. Cancer 2014; 5(3): 182-191. doi:10.7150/jca.6799
[Abstract] [Full text] [PDF] [PubMed] [PMC]
Research Paper
Combination of Diane-35 and Metformin to Treat Early Endometrial Carcinoma in PCOS Women with Insulin Resistance
Xin Li, Yan-Rong Guo, Jin-Fang Lin, Yi Feng, Håkan Billig, Ruijin Shao
J. Cancer 2014; 5(3): 173-181. doi:10.7150/jca.8009
[Abstract] [Full text] [PDF] [PubMed] [PMC]
Research Paper
PD-L1 Expression in Clear Cell Renal Cell Carcinoma: An Analysis of Nephrectomy and Sites of Metastases
L.B. Jilaveanu, B. Shuch, C. R. Zito, F. Parisi, M. Barr, Y. Kluger, L. Chen, H. M. Kluger
J. Cancer 2014; 5(3): 166-172. doi:10.7150/jca.8167
[Abstract] [Full text] [PDF] [PubMed] [PMC]
Research Paper
A Majority of Low (1-10%) ER Positive Breast Cancers Behave Like Hormone Receptor Negative Tumors
Jyothi S. Prabhu, Aruna Korlimarla, Krisha Desai, Annie Alexander, Rohini Raghavan, Anupama CE, Nandini Dendukuri, Suraj Manjunath, Marjorrie Correa, Raman N, Anjali Kalamdani, Prasad MSN, Gopinath K.S, Srinath B.S., T.S. Sridhar
J. Cancer 2014; 5(2): 156-165. doi:10.7150/jca.7668
[Abstract] [Full text] [PDF] [PubMed] [PMC]
Research Paper
Endometrial Cancer Incidence in Breast Cancer Patients Correlating with Age and Duration of Tamoxifen Use: a Population Based Study
Ju-Yin Chen, Shou-Jen Kuo, Yung-Po Liaw, Itzhak Avital, Alexander Stojadinovic, Yan-gao Man, Ciaran Mannion, Jianlian Wang, Ming-Chih Chou, Horng-Der Tsai, Shou-Tung Chen, Yi-Hsuan Hsiao
J. Cancer 2014; 5(2): 151-155. doi:10.7150/jca.8412
[Abstract] [Full text] [PDF] [PubMed] [PMC]
Research Paper
Evaluation of Antioxidant and Antiangiogenic Properties of Caesalpinia Echinata Extracts
Elisangela Christhianne Barbosa da Silva Gomes, George Chaves Jimenez, Luis Claudio Nascimento da Silva, Fabrício Bezerra de Sá, Karen Pena Cavalcanti de Souza, Gerson S. Paiva, Ivone Antônia de Souza
J. Cancer 2014; 5(2): 143-150. doi:10.7150/jca.7439
[Abstract] [Full text] [PDF] [PubMed] [PMC]
Research Paper
Preclinical Development of ONC1-13B, Novel Antiandrogen for Prostate Cancer Treatment
Alexandre V. Ivachtchenko, Oleg D. Mitkin, Elizaveta V. Kudan, Alexey A. Rjahovsky, Anton A. Vorobiev, Andrey S. Trifelenkov, Natalia A. Shevkun, Oxana V. Proskurina, Dmitry V. Kravchenko, Ruben N. Karapetian
J. Cancer 2014; 5(2): 133-142. doi:10.7150/jca.7773
[Abstract] [Full text] [PDF] [PubMed] [PMC]
Review
Should EMT of Cancer Cells Be Understood as Epithelial-Myeloid Transition?
Henning M. Schramm
J. Cancer 2014; 5(2): 125-132. doi:10.7150/jca.8242
[Abstract] [Full text] [PDF] [PubMed] [PMC]
Research Paper
An Ultra-Sensitive Immunoassay for Quantifying Biomarkers in Breast Tumor Tissue
Carol B. Fowler, Yan-Gao Man, Jeffrey T. Mason
J. Cancer 2014; 5(2): 115-124. doi:10.7150/jca.8084
[Abstract] [Full text] [PDF] [PubMed] [PMC]