Editors-in-Chief:
Yan-Gao Man, MD., PhD., Vice president for Research and Collaboration, South Hospital of Nanjing, Nanjing, China
Naoto T. Ueno, MD., PhD., Professor of Medicine, University of Texas MD Anderson Cancer Center
Editors-in-Chief Profile
Now indexed in Science Citation Index (SCI) Expanded! Official impact factor expected in June 2014. Congratulations!
Indexed in PubMed and full texts in PubMed Central, Europe PubMed Central, and PMC Canada.
Rapid review and publication.
High visibility of articles in Google and internet search.
Top cited papers:
2nd European Conference of National Strategies for Chlamydia Trachomatis and Human Papillomavirus will take place in Berlin, Germany, May 23-24, 2013.
Background: Metastatic renal cell carcinoma (RCC) to the liver portrays a poor prognosis and liver directed therapy remains controversial. We aimed to determine potential selection criteria for patients who might benefit from this strategy. Materials and Methods: We evaluated 247 consecutive patients with RCC metastatic to the liver from a prospectively maintained database. Results: Eighteen patients received liver directed therapy (18/247, 7%). Ten patients underwent liver resection (10/247, 4%) and eight patients underwent radiofrequency ablation (RFA, 8/247, 3%). All were rendered free of disease in the liver. Five had synchronous liver disease and underwent synchronous resections with their primary. More ...
Evidence has pointed to brain tumor stem cells (BTSC) as culprits behind human high-grade glioma (hHGG) resistance to standard therapy. Pre-clinical rodent models are the mainstay for testing of new therapeutic strategies. The typical model involves the intracranial injection of human glioma cells into immunocompromised hosts, hindering the evaluation of tumor-host responses and resulting in non-infiltrative tumors. The CT-2A model is an immunocompetent mouse model with potential to overcome these disadvantages. In this study, we confirmed the highly infiltrative nature of intracranial CT-2A tumors and optimized reproducible injection parameters. More ...
Although interferon (IFN) has been often used as immunotherapy for bladder cancer, its efficacy is rather unsatisfactory, demanding further improvement. Combination therapy is one of viable options, and grape seed proanthocyanidin (GSP) could be such an agent to be used with IFN because it has been shown to have anticancer activity. We thus investigated whether combination of IFN and GSP might enhance the overall antiproliferative effect on bladder cancer cells in vitro. More ...
Background: There is often a finite progression-free interval of time between one systemic therapy and the next when treating patients with advanced cancer. While it appears that progression-free survival (PFS) between systemic therapies tends to get shorter for a number of factors, there has not been a formal evaluation of diverse tumor types in an advanced cancer population treated with commercially-available systemic therapies. Methods: In an attempt to clarify the relationship between PFS between subsequent systemic therapies, we analyzed the records of 165 advanced cancer patients coming to our clinic for consideration for participation in six different phase I clinical trials requiring detailed and extensive past medical treatment history documentation. More ...
Accumulated evidence indicates that cytotoxic function of immune effectors is largely suppressed in the tumor microenvironment by a number of distinct effectors and their secreted factors. The aims of this review are to provide a rationale and a potential mechanism for immunosuppression in cancer and to demonstrate the significance of such immunosuppression in cellular differentiation and progression of cancer. To that end, we have recently shown that NK cells mediate significant cytotoxicity against primary oral squamous carcinoma stem cells (OSCSCs) as compared to their more differentiated oral squamous carcinoma cells (OSCCs). More ...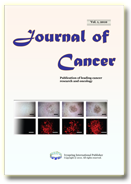 Journal of Cancer is an open access, peer-reviewed journal publishing papers of high quality in all areas of cancer related fields, especially novel concepts, new methods, new regimens, new therapeutic agents, and alternative approaches for early detection and intervention of cancer. Journal of Cancer is published in cooperation with American Registry of Pathology.
Latest papers:
Research Paper
Comprehensive microRNA Profiling of Prostate Cancer
Beatriz A. Walter, Vladimir A. Valera, Peter A. Pinto, Maria J. Merino
J. Cancer 2013; 4(5): 350-357. doi:10.7150/jca.6394
[Abstract] [Full text] [PDF]
Research Paper
Isolation and Characterization of Muscle Fatigue Substance with Anti-Tumor Activities
Ruben M. Munoz, Haiyong Han, Tony Tegeler, Konstantinos Petritis, Daniel D. Von Hoff, Stanley A. Hoffman
J. Cancer 2013; 4(4): 343-349. doi:10.7150/jca.5418
[Abstract] [Full text] [PDF] [PubMed] [PMC]
Research Paper
Low Grade Micropapillary Urothelial Carcinoma, Does It Exist? - Analysis of Management and Outcomes from the Surveillance, Epidemiology and End Results (SEER) Database
Srinivas Vourganti, Andrew Harbin, Eric A. Singer, Brian Shuch, Adam R. Metwalli, Piyush K. Agarwal
J. Cancer 2013; 4(4): 336-342. doi:10.7150/jca.6215
[Abstract] [Full text] [PDF] [PubMed] [PMC]
Research Paper
Modeling Efficacy of Bevacizumab Treatment for Metastatic Colon Cancer
Rezwan Islam, Po-Huang Chyou, James K Burmester
J. Cancer 2013; 4(4): 330-335. doi:10.7150/jca.6083
[Abstract] [Full text] [PDF] [PubMed] [PMC]
Research Paper
Plasma Cell-Free DNA in Paediatric Lymphomas
Lara Mussolin, Roberta Burnelli, Marta Pillon, Elisa Carraro, Piero Farruggia, Alessandra Todesco, Maurizio Mascarin, Angelo Rosolen
J. Cancer 2013; 4(4): 323-329. doi:10.7150/jca.6226
[Abstract] [Full text] [PDF] [PubMed] [PMC]
Short Research Communication
Rare Though Not Mutually Exclusive: A Report of Three Cases of Concomitant KRAS and BRAF Mutation and a Review of the Literature
Ibrahim Halil Sahin, Syed M.A. Kazmi, Jeffrey T. Yorio, Nishin A. Bhadkamkar, Bryan K. Kee, Christopher R. Garrett
J. Cancer 2013; 4(4): 320-322. doi:10.7150/jca.3619
[Abstract] [Full text] [PDF] [PubMed] [PMC]
Research Paper
Synergistic Effect between Sphingosine-1-Phosphate and Chemotherapy Drugs against Human Brain-metastasized Breast Cancer MDA-MB-361 cells
Ahlam Sultan, Binbing Ling, Huihua Zhang, Baohua Ma, Deborah Michel, Jane Alcorn, Jian Yang
J. Cancer 2013; 4(4): 315-319. doi:10.7150/jca.5956
[Abstract] [Full text] [PDF] [PubMed] [PMC]
Research Paper
Impact of Age at Diagnosis on Outcomes in Men with Castrate-Resistant Prostate Cancer (CRPC)
Michael R Humphreys, Kimberly A Fernandes, Srikala S Sridhar
J. Cancer 2013; 4(4): 304-314. doi:10.7150/jca.4192
[Abstract] [Full text] [PDF] [PubMed] [PMC]
Research Paper
The Anti-inflammatory Role of Endometase/Matrilysin-2 in Human Prostate Cancer Cells
Zahraa I. Khamis, Diego A.R. Zorio, Leland W.K. Chung, Qing-Xiang Amy Sang
J. Cancer 2013; 4(4): 296-303. doi:10.7150/jca.5788
[Abstract] [Full text] [PDF] [PubMed] [PMC]
Review
The Diagnostic and Prognostic Role of microRNA in Colorectal Cancer - a Comprehensive review
Haggi Mazeh, Ido Mizrahi, Nadia Ilyayev, David Halle, Björn LDM Brücher, Anton Bilchik, Mladjan Protic, Martin Daumer, Alexander Stojadinovic, Itzhak Avital, Aviram Nissan
J. Cancer 2013; 4(3): 281-295. doi:10.7150/jca.5836
[Abstract] [Full text] [PDF] [PubMed] [PMC]
Review
Colorectal Cancer Screening in an Equal Access Healthcare System
Mia DeBarros, Scott R. Steele
J. Cancer 2013; 4(3): 270-280. doi:10.7150/jca.5833
[Abstract] [Full text] [PDF] [PubMed] [PMC]
Review
Patients at Risk for Peritoneal Surface Malignancy of Colorectal Cancer Origin: The Role of Second Look Laparotomy
Björn LDM Brücher, Alexander Stojadinovic, Anton J. Bilchik, Mladjan Protic, Martin Daumer, Aviram Nissan, Itzhak Avital
J. Cancer 2013; 4(3): 262-269. doi:10.7150/jca.5831
[Abstract] [Full text] [PDF] [PubMed] [PMC]
Review
Advances in Biophotonics Detection of Field Carcinogenesis for Colon Cancer Risk Stratification
Vadim Backman, Hemant K. Roy
J. Cancer 2013; 4(3): 251-261. doi:10.7150/jca.5838
[Abstract] [Full text] [PDF] [PubMed] [PMC]
Review
Colorectal Cancer Biomarkers and the Potential Role of Cancer Stem Cells
Russell C. Langan, John E. Mullinax, Manish T. Raiji, Trevor Upham, Thomas Summers, Alexander Stojadinovic, Itzhak Avital
J. Cancer 2013; 4(3): 241-250. doi:10.7150/jca.5832
[Abstract] [Full text] [PDF] [PubMed] [PMC]
Review
Significance of Infectious Agents in Colorectal Cancer Development
Vlado Antonic, Alexander Stojadinovic, Kent E. Kester, Peter J Weina, Björn LDM Brücher, Mladjan Protic, Itzhak Avital, Mina Izadjoo
J. Cancer 2013; 4(3): 227-240. doi:10.7150/jca.5835
[Abstract] [Full text] [PDF] [PubMed] [PMC]
Review
Colonoscopy for Colorectal Cancer Screening
Patrick E. Young, Craig M. Womeldorph
J. Cancer 2013; 4(3): 217-226. doi:10.7150/jca.5829
[Abstract] [Full text] [PDF] [PubMed] [PMC]